With 200 other people in Coimbra jockeying for 15 spots??

The biggest challenge will be getting my lawyer to go with me !
Given your situation maybe it's worth going even if they can't? What's the worst that happens?
@supermoira You may already have this, but just in case:
Once you login to the ARI portal (ari.sef.pt), there is a QR code button on the right, which was added around April 2020.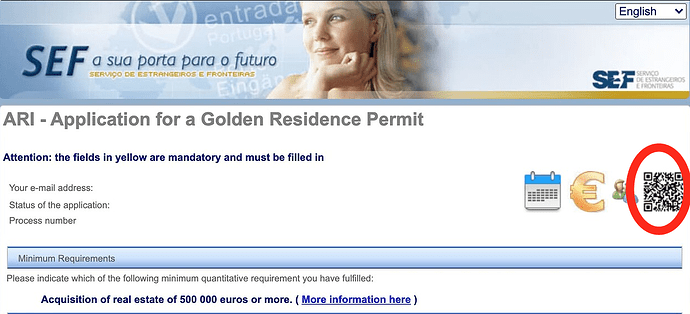 Clicking that leads to a page which says
You are about to issue a document that certifies that you applied for a investor's residence permit under Article 90º-A of Law 23/2007 in its current version This document may be presented to public and private entities in accordance with Order No. 3863-B/2020. Confirm that you want to issue the registration certificate using the next button.
I confirmed with my lawyer that this certificate is meant for people in your situation (living in Portugal), and they can use this to show their legal residence status and access national health system, sign leases, open bank accounts, etc.
Google translate of the relevant bits of the order
2 — The documents attesting to the situation of the citizens referred to in the previous number are the following:
a ) […]
b ) In other situations of processes pending at the SEF, namely concessions or renovations of residence permits, whether under the general or exceptional regimes, through document proving the appointment at the SEF or receipt proving the actual order.
3 — The documents referred to in the previous number of this order are considered valid before all public services, namely to obtain the user number, access to the National Health Service or other health care rights, access to social support agreements, signing of leases, signing of contracts of work, opening bank accounts and contracting essential public service
Wow! I did not know about this, only my lawyer has access to my ARI portal. I have asked her many times (after April 2020) how I can get a document like this.
I am going to follow up on this with her immediately.
In theory this document will help me immensely!
I cannot thank you enough!!!
You're welcome! Do keep us posted on how it goes, it will be very helpful to others in the same situation. I think this will work well enough for signing up for stuff inside Portugal, but not sure about how well it will be accepted by airlines flying into Portugal or indeed immigration staff at the Schengen entry point.
I will let you know how it goes! Our lives have been on hold since April 2021 because we have not been able to register a new business or open certain types of bank accounts and in some cases we haven't been able to accept international parcels through customs without a valid residence permit.
Even for my tax return in South Africa, I need to provide a copy of a valid visa to avoid double taxation - so this document would be very useful! Of course travel will still be limited, but I could use it to apply for another type of visitor visa for other countries - since a valid visa is something you need for this.
May I ask how you knew about it? I asked my lawyer many times over the last year for some kind of proof of my legal status here but she said there was nothing I could get. I'm just wondering if this is an indication of her professional abilities? I would be very hesitant to change lawyers at this stage, as I am pretty much "pot bound".
My lawyers and I have independent access to my ARI application page. I kept checking it on a daily basis on the off chance that some status update on our application would be posted. One day in the middle of April 2020 I noticed this new button and asked them about it. They confirmed my guess that it was for people staying in Portugal to be able to prove their residence status.
I remember being pleasantly surprised that the Portuguese government and SEF acted so promptly and rolled out a feature on the ARI website barely a month into the pandemic, when so many other things might justifiably have taken precedence. I guess it was not publicised widely enough.
@minimaxr You likely have a very old application. Anyone applying after March 2020 will not find this feature so useful or available.
Easy enough to verify by anyone with a new application who has access to their ARI page.
This post by @jjmz dated Nov 21 has a comment by @Onward also mentioning the QR code.
I don't have mine approved yet (under analysis), but clicking on the QR code does nothing for me.
Thanks for the information, Jim. My page showed the 'generate certificate' message after biometrics, after the pandemic got underway, but before the residence card was issued, and it continues to be there even with some months validity left on the current residence permit.
Same timeline and access as Jim. QR code not active.
If your initial visa expires and there's a delay in getting a renewal does that time without a visa still count towards the time for citizenship?
As far as I know; that time does not count towards citizenship…
My lawyers told me that the clock starts with the approval of your first card…
Yet; in order to get citizenship you'll need to have 5 years of residency - this doesn't have to be continuous… In fact here there were posts which highlighted the relevant legistlation… 5 years residency in a 15 year interval is what they look for.
All of this in the end means that if you are waiting for your renewal, you'll need that renewal card to complete the 5 year period… The period in between does not count for anything…
Hope this helps…
I have been waiting for an appointment for my last renewal (current GV expired in April 2021) and my lawyer told me that this time without a valid visa DOES count towards citizenship. As you said, the clock starts with the first card. My lawyer says that on the day that marks 5 years from the issue of my first card I can apply for citizenship…
It'll be 5 years in April 2023. At this rate it might happen before I can get the renewal appointment!
hahahaha! look at the cost savings!
but yea, what she said. you haven't renewed because it's SEF's fault. SEF has issued an order extending validity. therefore you are still a legal resident and the clock is running.
if you slip the renewal due to your own fault then yeah it doesn't count, but there's no requirement of continuous, just aggregate.
@supermoira just like you I've been waiting for the renewal of my residency card for few months… My 2nd card expired on Sep 2021.
So here is my case… My first residency card was approved in October 2018, the 5 year period will be completed on October 2023…
I am not 100% sure if someone can make the application on the 5 year mark, when the total accumulated residency permits till that marked-date is less than 5 years by pointing out that they will soon complete the 5 year residency… (Hopefully by then I will have received my final residency card)
Given that they have extended the validity of the existing residency cards till March 2022, I assume that would help… e.g. my second residency card might be counted for 24 + 6 months= 30 months instead of 24 months…
This is obviously something that I would check with my lawyers as well.
Clicking on my QR code produces this:
"It's not possible to issue the registration certificate because the portal registration was made after 18-03-2020"
Hi All,
I had many discussions with my Lawyer about the counting of the 5 Years, and I can confirm that the start time is the date on your first GV card.
The idea based on SEF clerk is that you maintained the investment and applied for renewal within the allowed frame.
Before Corona came up, you had a chance to apply for renewal 3 Months before expiry and a buffer of 3 Months after. If you failed to renew during post 3 Months, your GV would be canceled.
That's why they are extending the current GVs, so the system considers your residency valid…until you renew…
For me I did my 2nd renewal in Nov 2021, (3 Months ahead of expiry)…I always play it safe. I should complete the 5 years in Jan 2024.
Regards,