Hello everyone!!
I registered a company in Estonia last year, I'm still developing the product and service so it isn't open to the public and I have zero trading or revenue.
It's time to submit the company's annual report and I'm following this tutorial: How to submit dormant accounts in Estonia? | Unicount Support
So far everything alright but I bumped into an issue on step 14, the tutorial says I don't need to enter any data and just click "Save". However, when I click "Save" without entering any data I receive this warning in the orange box: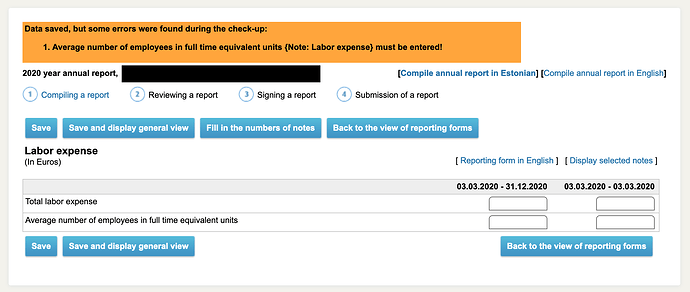 Can anyone give me a piece of advice on what to do here? My assumption is that "Total labor expense" is zero and that "Average number of employees…" is one (myself?). Is this correct?
Thanks for your time!